The ultimate group calf hutch solution

Panel corners easily pin together (pins included), and attach to hutch with 4 bolts.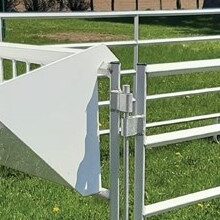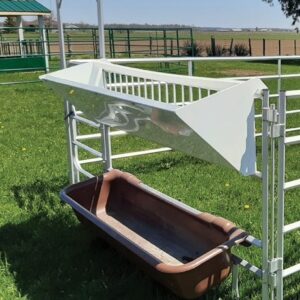 Plastic feed trough and hay racks are easily removable for cleaning.
Group Calf hutches make excellent intermediate calf housing, providing protective group confinement without tying calves. Duralume's easy-to-handle, easy-to-move setup offers the perfect solution for group calf housing. Lightweight aluminum construction offers strength without compromising structural integrity and reliability. Standard size: 12' x 9'.
Group Calf Hutches Specifications
Lightweight aluminum construction using Duralume's unique Diamond Bar Technology
Heavy-Duty performance rated for bull strength
Tubing dimensions: 1¼″ x 1¼″ x ⅛″ 6061 T5 High-Tensile Grade Aluminum tubing
Standard Height: 48″ Other heights can be custom ordered.
Standard Lengths: 9' front x 12' side

Save your back.
Buy Aluminum.
All Duralume Gates are made with our unique Diamond Bar technology.
Lightweight &
Easy-to-move